Meridian Health Group is based in various locations across Kenya with 2 main hospitals in Bukani Road, Nairobi (Meridian Equator Hospital) and Lamu Road, Malindi (Meridian Hospital Galana). They provide a wide range of medical services across different medical disciplines.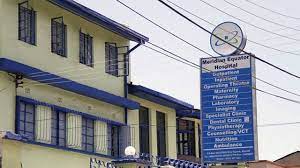 Outpatient services offered:
   • Consultation
   • Specialists Consultation
   • Integrated Chronic Disease Management
   • Nutrition
   • Physiotherapy
   • Radiology (X ray and Ultrasound)
   • Wellness checkups
   • Medical Examinations
   • Occupational Safety and Health
Inpatient services offered:
   • Maternity
   • Dialysis
   • ICU
   • Theatre
   • General medical, Gynaecology, Paediatric and Surgical Inpatient
   • Endoscopy
   • Laparoscopy
Maternity patients may also seek post-natal care at any of the Outpatient Centres offering the service; delivery will be at our inpatient facilities at Meridian Equator Hospital, Nairobi West & Meridian Hospital Limited, Malindi.